SHARE THIS FORUM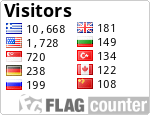 SOCIAL NETWORKS

WeekenderMix is a radio show hosted by Giannis Chrysogonou every 1st Saturday of the month @
www.danceradioglobal.com 10:00-12:00 (GMT+2).
Convert it to your own time from the link below
http://www.timezoneconverter.com/cgi-bin/tzc.tzc
Links to listen:
Electronica stream:
http://www.danceradioglobal.com/electronica
Winamp Links
160K Quality:
http://www.danceradio.gr/160.pls
128k Quality:
http://www.danceradio.gr/128a.pls
32k Quality:
http://www.danceradio.gr/32.pls
Tomorrow on www.danceradioglobal.com/electronica 10:00-12:00 (GMT+2).
WeekenderMix Radio Show with guest Serafim Tsotsonis (KLIK Records).



Posts

: 13


Points

: 26


Join date

: 2010-01-13



Για τους φιλους του forum μπορειτε να ακουσετε και να κατεβασετε αν επιθυμειτε απο τα παρακατω link την τελευταια εκπομπη.
Stay tuned!

Weekendermix 06 February 2010 on danceradio

Part 1 mix

Part 2 guest mix by Serafim Tsotsonis:

Thank you all!


---------------------------


WEB:
http://www.weekendermix.gr

MYSPACE:
http://www.myspace.com/weekendermix

FACEBOOK:

https://www.facebook.com/home.php#/pages/WeekenderMix/107793950867
Saturday March 6 on www.danceradioglobal.com/electronica
10:00 - 12:00 (GMT+2)
WeekenderMix Radio Show with guest Thomas Langner aka Ex-Or
(Outside The Box Rec. / Destroy The Ego Rec. / Unikat /Krakow).
Producer and DJ. Thomas started his dj career in 1998 hometown – Czestochowa where he was organising cyclic gig gathering several hundred people. In 2003 Ex-Or was looking for another challenges and moved to Kraków where he was proposed to take a residency in the new club called NoBar. His initiative and some good ideas were noticed soon - he became an artistic manager of the venue which many people will hold in memory for a long time. Till now Thomas keeps spinning in the best Polish clubs. He also visited Dublin and London and took part in some radio shows as a guest DJ. Today Ex-Or hosts the Unikat Show on Proton Radio (New York).
For several years associated with a very popular cyclic gig called "Love Is One" promoted in cooperation with DJ Mj.uzi.k, organizer and resident of the Unikat Nights in Krakow's Bledne Kolo and Prozak, DJ of the best Polish electronic music festival – Audioriver.
He supported such a great artists as Audiofly, Tomcraft, Anthony Pappa, Luke Fair, Eelke Kleijn, Luke Porter, Derek Howell, Leama and Moor, 16 Bit Lolitas, Jamie McHugh, Christian Cambas, Bart Van Wissen, Alex Kid, Pier Bucci, Tigerskin and Oliver Hunntenman.
His tracks were noticed by several labels from all over the world: Outside The Box (NL), Baroque Records (UK), Existence Records (CA), Pure Substance Records (GR), Twisted Frequency (UK), Dumb (SW), Underground Lessons (GR) , Vise Versa Music (GR), Shiva (UK) and Unikat Records (PL)
Thomas is a part of Janicki & Langner duet, founder of the Unikat project and coproducer of the releases which grabbed the first places in some best internet stores and were played in the most prestigious John Digweed's Kiss100, Hernan Cattaneo's Metrodance live from London's The Cross.
The very positive feedback from many experienced artists (Sasha, Anthony Pappa, Hernan Cattaneo, Luke Fair, Sebastian Davidson, Greg Benz, Innate, Andrew K, Flash Brothers, Tony Thomas, Micah, James Harcourt, Deepsky, Mashtronic, MOS, Clubbervision, Ricky Ryan and many others) shows that Thomas Langner is one of the most recognizable person among Polish producers.
More Info:
http://www.myspace.com/thomaslangner
http://www.unikatrecords.org
Saturday April 3 on www.danceradioglobal.com/electronica
10:00 - 12:00 (GMT+2)
WeekenderMix Radio Show with guest Cherry Aka Teruyuki Kurihara (Four:Twenty Recordings).
Cherry works in Tokyo as a track maker. he was affected by a broad range of music (rock, electro, jazz, ambient etc) and has started to make tracks since 2007. he has started to play to lives at clubs in Tokyo. his music is kind of individual and melancholy. he has a unique way of looking at the world.
Discography:
Alex (Four:Twenty Recordings)
The World Waits (Four:Twenty Recordings)
More info:
http://www.myspace.com/cherrytokyo
http://www.fourtwentyrecordings.com
http://www.weekendermix.gr
tha eimaste sintonismenoi file mou

Saturday May 1 on www.danceradioglobal.com/electronica
10:00 - 12:00 (GMT+2)

WeekenderMix Radio Show with guest mix by ION.

Giannis Papaioannou (ION) apart from a musician, was also in the 90's the founder of the independent electronic music record company, Elfish, while his previous participations in groups such as Rehearsed Dreams, Spider's Web and Raw, established him as on of the most active people in the Greek independent music scene.

ION's music was always characterized from its underground repetitive minimalism. Influenced by the techno scene, and especially from record companies such as Basic Channel, ION was probably one of the first Greek artists to appear at live performances with his portable computer alone. 2005 signals his return to the local techno scene with the release of a new album and a series of live sets along with his darling laptop.

More info:
http://www.myspace.com/iongreece
http://nocamera.wordpress.com
http://www.klikrecords.gr

http://www.weekendermix.gr
Saturday June 5 on www.danceradioglobal.com 10:00 - 12:00 (GMT+2)
WeekenderMix Radio Show with guest mix by Stu Hirst.
DJ, Producer, Remixer and Label Owner Stu Hirst has firmly established himself as one of the UK's most exciting talents in recent years, with over 40 underground hits and remixes on a variety of leading electronic labels.
Stu's first release "Rhythmique" gained numerous plays from Pete Tong on his Essential Selection show, as well as being one of Steve Lawler's closing records in his sets throughout 2005. It was included as the final record of the Lights Out CD Compilation series, released on Global Underground in October 2005 and was also licensed to Moguai's World League compilation. Lawler described it as "a truly amazing record" and charted it at number 3 in his all-time Harlem Nights tracks.
Further releases were forthcoming on heavyweight labels such as Subversive and Distinctive (under the name "Ourhouse"), Plastic Fantastic, Fantastic House, Limbo and Baroque, gaining widespread club and radio support from some of the World's biggest dj's. Ourhouse's "Dropout" received two plays from Annie Nightingale on Radio One and was included in Distinctive's Y4K Mix compilation (as well as the being included on the vinyl sampler) and "Jackin On" was supported by Tong on Radio One. The Trophy Twins also gave "That Feeling" multiple plays on their Radio One show in March 2007. More recently, Tong has been supporting Stu's mix of the classic SL2 – On A Ragga Tip, which is due for a re-release in 2008.
Remix wise, Stu has worked for labels such as Saw, Deeper Substance (reaching Balance Promote Chart Number One), Global Underground, Limbo, Level (with plays from Jules on Radio One), Climax, Adjust and Red Recordings. In 2007, Stu released tracks on some of dance music's most important labels, including Global Underground, Toolroom, VIVA, System and Baroque. "Big Rooms Bigger Tunes" and "Saws And Sines" both featured on Global Underground's 2007 compilation "GU Mixed". 2008 has seen Stu continue to achieve Worldwide production success, with releases on Forensic, Rococo and more work for VIVA Music. "Cambio" was included on Lawler's Renaissance Viva Toronto Compilation. Stu has recently signed to one of dance music's largest and most prestigious labels, CR2 and has been added to their Tour Roster, also reminxing Essential New Tune "Sunshyne" by James Talk, for the label.
Stu also runs 7 Inch And Single Records, an outlet for his own music. The first release, "Less Is More", was licensed to Dave Seaman's Renaissance Masters Mix. Previously, Stu ran Strawberry Blonde Records, which had over 15 releases before giving way to the new label.
To support the labels, Stu presents the Strawberry Blonde show on leading electronic internet radio station Proton Radio and also the Stu Hirst Podcast (currently with over 3000 subscribers and growing daily), showcasing the label's output and a taste of what can be heard in Stu Hirst sets around the Globe. Stu's Proton shows are regularly amongst the most listened to on the station.
DJ wise, Stu is no stranger to success, having beaten thousands of hopefuls to win DJ Magazine's Mix Competition in 2003. Such an achievement has given Stu the chance to play at some of the UK and beyond's finest clubs, including appearances at three Closing Parties for the mighty Space in Ibiza, Global Club in Lithuania, Amsterdam Dance Conference and many more, including La Mania (Romania), Privilege (Ibiza), Nautilus (Latvia), Gravity (Lithuania), Piekarnia (Poland), Ministry Of Sound, The Cross, Heaven, Turnmills, Colours, Progression, Do This Do That, Glam, Storm and Inside Out. In 2006, Stu mixed the covermount CD for Baltic dance and lifestyle magazine "Flash", and toured Eastern Europe to promote the mix.
More info:
http://www.stuhirst.com/
http://www.myspace.com/stuhirst
http://www.weekendermix.gr/

---
Permissions in this forum:
You
cannot
reply to topics in this forum