SHARE THIS FORUM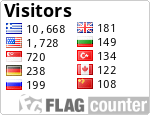 SOCIAL NETWORKS

DJ Vierro grew up in Greece and to this day it remains his base of
operation. His mother had brief success as a vocalist in the 1980's and
that, along with the music of the time, would go on to have a stro
ng
influence on his own musical career. He grew up listening to acts such
as Genesis, Simp
ly Red and Depeche Mode and felt himself being drawn
into the world of electronic music. His first exposure to house was
Kevin Saunderson and his Inner City project. The sound of Inner City was
to have a major impact on Vierro's music personality and their musical
fusio
n founded the basis for his DJ career. In the early 90's Vierro was
well established in his local scene with a residency at Fashion Club
and his talent was soon to be recognized outside of his native country. A
residency at Club Paradiso in Amsterdam showcased his passionate sets
and unique sound to a wider audience. It was during this time that
Vierro met Vincent de Moor and became a big supporter of his single
"Flowtation" which then resulted in a three year deal with Combined
Forces and Michael de Hey. Vierro's first major single on the label was
"Natural High" with the 12 inch being released in 1999.
In the same year Dutch television channel TMF and the program "TMF The
DJ's" gave him his first major broadcast with Marco V live in the "Dans
Salon" in Eindhoven. A year later he was again featured live on the
program with Marcello in "The O" in Den Haag. In 2002 Vierro made
another appearance but this time live in the Maas Theater in Rotterdam.
More than 14 million viewers went on to vote Vierro in as one of TMF's
"new artists of the year" for the year 2002. Vierro was soon playing
alongside world class DJ's such as Roger Sanchez, Carl Cox, Sven Vath,
K. Saunderson and Westbam at one of Europe's biggest and most respected
events, Dance Valley in Amsterdam, where he played under the name Panos
V.
In 2002 disaster struck. Vierro was involved in a horrific accident that
threatened to end his music career. It was only his strong love of
music and his equally strong belief in God that saw him return in 2005.
Since his return Vierro has been busy touring and playing to crowds,
producing his own music, remixing the music of others and has also
produced his own radio show, "Elements", which is aired on
Danceradioglobal.com and was one of the top 10 shows in 2008. Vierro's
guest mix on DJ Tiesto's show "Clublife" at the beginning of 2009 was
further proof of the success of his comeback.
Vierro has worked with some of the biggest vocalists in the business
including Tiff Lacey, Julie Thompson and Cari Golden. If asked, he would
tell you that his dream remains to work with the haunting vocals of
Emma Hewitt. Sied Van Riel and Cosmic Gate are also on his wish list for
collaborations.
The past year has seen Vierro's productions and schedule go into
hyperdrive! His productions and remixes include:
"Storm" feat. Tiff Lacey (Receptive Recordings) which has had enormous
support from the dance music community and stayed for more than 10 days
in the Trackitdown's Top 100 in the trance genre.
"Falling Down" feat. Julie Thompson (405 Recordings, Australia)
"Dream Puzzle", (405 Recordings, Australia)
"He Reminds Me of You" feat. Cari Golden (Shah Music, Germany)
"Happiness Happening" by Lost Witness Vierro Remix (Spinnin Recordings,
Netherlands)
"Greece 2000" by the Dutch duo Ton TB & Eric who are well known as
'Three drives on a vinyl' also gets a remix by Vierro which will be out
soon.
"Shuttered Life" and "Memories" are two tracks still in the works as are
further collaborations with Tiff Lacey and Julie Thompson. The
legendary vocals of Jan Johnston combine with another of Vierro's
productions and are sure to bring dance floors to life. Dutch beauty
Esmaye is also lending her vocals to two Vierro productions and the
vocals of Aminda, Claire Willis and Sarah Tyler on further productions
are guaranteeing Vierro a busy summer in the studio!
Vierro was voted "Artist of the Month" May/June 2010 by Dance Radio
Global (
www.danceradioglobal.com
)
In May 2010 Vierro was interviewed by one of Spain's leading m
usic
magazines, YODJ,
(
www.yodj.es
)
A much anticipated artist's album is also in the works and once
completed a tour will follow. Vierro is an artist that has much to bring
to the dance music scene and is definitely a name to watch!
COMING SOON
"Vierro feat Cari Golden - he reminds me" out middle October from Shah-music
"Vierro feat Tiff Lacey - World without end" out middle Novemeber from 405 recordings
"Vierro feat J'Unique - Memoeires" out end of October from L8-night rec
Admin




Posts

: 434


Points

: 1237


Join date

: 2010-01-10


Age

: 36


Location

: greece





Similar topics
---
Permissions in this forum:
You
cannot
reply to topics in this forum