SHARE THIS FORUM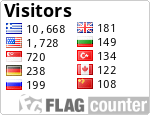 SOCIAL NETWORKS

---
BIO:
As Greece's foremost proponent of Electronic Dance Music, Christian Cambas is the country's greatest dance music export. He studied and graduated from the prestigious Berklee College of Music, of which former alumni include Brian 'BT' Transeau, film score impresario Alan Silvestri & the legendary Quincy Jones. He regularly DJs alongside such luminaries as Carl Cox, Nick Warren and Sasha and in 2005 he notably became the first Greek DJ to break into DJ Magazine's Top 100 DJs poll. His debut progressive cut 'It Scares Me' was released on John Digweed's Bedrock imprint and he has gone on to record for some of the world's most respected prog labels. An Athenian resident, Christian has been involved in professional music production since 1998. Over the last 10 years his production facets have ranged from Drum & Bass over to Progressive House. While living in the U.S. Christian applied and was accepted to Boston's Berklee College of Music in 1996. There he was surrounded by House music, but it was the early days of the U.S. Drum & Bass scene that initially snared his attention. He spent the greater part of his duration in the U.S. working at prominent dance music record store Boston Beat. From there he set up his own Drum & Bass label, First Commandment Records, subsequently releasing three singles, which were warmly embraced by both the U.S. and European markets. Returning to Greece in 2000, Berklee degree in his hand, Cambas started to broaden his production canvas. Accepting remix work from a seminal Greek record label, he became more involved in other styles of dance music production. Through remixing and working at a DJ booking agency his music became increasingly more progressive in both outlook and style. DJing in that genre and with his profile on the rise, Christian found himself playing alongside DJs of the likes of John Digweed, Carl Cox, Sasha, Nick Warren and many others in definitive clubs and events around Greece. He went on hold a two year monthly residency at the legendary +SODA in Athens. His touring schedule includes dates in North & South American Europe and Asia, with gig highlights including the San Francisco Love Parade and the WMC in Miami. In his hometown of Athens, he has been a resident at widely-regarded The Hall nightclub since its opening. In 2005 Christian became the first Greek DJ to enter DJ Mag's Top 100 DJs chart, coming in at 88. Christian's productions are supported on a regular basis by John Digweed & Sasha as well as a phalanx of other scene-defining prog jocks. He has released records on Diggers own Bedrock Records, Dave Seaman's Audiotherapy as well as SOG & G.Pal's Swift Records. As a remixer Christian has re-imagined massive club hits like Anarcrusan's 'In My Mind' for Yoshitoshi Records. In addition to his production and remix career, Christian also has also taught a college-level Sound Engineering and Music Technology course for the past 6 years. At the end of 2006 he took the step of starting his own label with the inception of Devilock Records. Focusing on uncompromising, broad-ranging dance music, the imprint's releases have been supported by DJs as diverse as Paul Van Dyk, Hernan Cattaneo, The Hacker & The Flash Brothers.
---
CHRISTIAN CAMBAS – Beyond Suspicion CD
---
Ο πρώτος Έλληνας DJ που μπήκε στο Top 100 του περιοδικού DJ Mag , Christian
Cambas, κυκλοφορεί το νέο του album απο την Planetworks και την Universal με
τον τίτλο Beyond Suspicion. Γραμμένο εξ'ολοκλήρου απο την αρχή και όχι απλώς
μια συλλογή απο τυχαία singles, το Beyond Suspicion είναι το απόλυτο dance CD
του καλοκαιριού.
Μετά απο κυκλοφορίες στα μεγαλύτερα dance labels του κόσμου όπως η
Bedrock του John Digweed, η Audiotherapy του Dave Seaman κ.α., ήρθε η ώρα να
παρουσιάσει την καινούργια του δουλειά που θα κυκλοφορήσει ΠΡΩΤΑ στην
Ελληνική αγορά και ύστερα στον υπόλοιπο κόσμο.
Ο ήχος του album καλύπτει όλες τις μοντέρνες πλευρές της ηλεκτρονικής
μουσικής, αλλά με αυστηρή έμφαση στο dancefloor. Με tech house και
progressive, έως και techno παραγωγές, θα ικανοποιηθούν και οι πιο αυστηροί
λάτρεις του είδους.
Στο μοναδικό κομμάτι με φωνητικά συναντάμε την guest εμφάνιση του Andrew
Paley απο τους Αμερικάνους rockers The Static Age. Αυτή είναι η δεύτερη
συνεργασία του με τον Christian μετά το περσινό underground hit "Sirens", με
το οποίο ενθουσιάστηκε τόσο πολύ ο Paul Van Dyk ώστε έκανε μία δική του VIP
version για να παίζει στα DJ sets του.
Όπως με όλες τις παραγωγές του Christian Cambas, έτσι και με το Beyond
Suspicion, η υποστήριξη απο τους top DJs είναι μεγάλη, καθώς ενδεικτικά,
βρίσκεται ήδη στις προτιμήσεις των Dave Seaman, Paul Van Dyk, Hernan
Cattaneo, Paul Oakenfold, όπως όμως και στα playlists των μεγαθήριων Jerome
Isma‐Ae, Mark Knight, Richie Hawtin , Marco V, Marco Bailey, κ.α.
Στα πλαίσια της κυκλοφορίας θα πραγματοποιηθεί tour του Christian Cambas
με πρώτη στάση το Cavo Paradiso της Μυκόνου στις 5 Ιουνίου.
TRACKLIST
1. Christian Cambas feat. The Static Age - Already Dead
2. Christian Cambas - Rebound
3. Christian Cambas - Mission Hill
4. Christian Cambas - Savvy
5. Mario Chris - Nightlife (Christian Cambas Remix)
6. Christian Cambas - Violator
7. Christian Cambas - Just Another Marilyn
8. Christian Cambas - Everybody's
9. Christian Cambas - Ghost
MYSPACE PAGE
FACEBOOK PAGE
BUY FROM BEATPORT
Admin




Posts

: 434


Points

: 1237


Join date

: 2010-01-10


Age

: 36


Location

: greece




---
Permissions in this forum:
You
cannot
reply to topics in this forum