SHARE THIS FORUM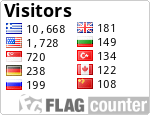 SOCIAL NETWORKS

SABOTAGE - OPENING
Το Σάββατο 5 Ιουνίου, ο Sir της techno σκηνής, Mark Broom, θα επισκεφτεί για πρώτη φορά τη χώρα μας και πιο συγκεκριμένα, το Ammos Club. Μαζί του θα εμφανιστεί το ανερχόμενο αστέρι της Σλοβενίας, Mathew Hoag, καθώς και ο δικός μας Steve Sai. Μια δυνατή techno βραδιά δίπλα στην παραλία από το SABOTAGE, που σκοπεύει να πυροδοτήσει το clubbing της πόλης με μετακλήσεις γνωστών ονομάτων που έχουμε (και δεν έχουμε!) ξανακούσει από το χώρο της techno, tech house, minimal κ.ά.
Ο Mark Broom ήδη από τις αρχές της δεκαετίας του '90 θεωρείται ένας από τους βασικούς εκπροσώπους της αγγλικής ηλεκτρονικής σκηνής. Όλα ξεκίνησαν από ένα ταξίδι του στην Τενερίφη, όπου ήρθε σε επαφή με τους αναδυόμενους ήχους της Chicago και Acid House, στους οποίους δεν κατάφερε να αντισταθεί, με αποτέλεσμα να αναδειχθεί σε πρωτεργάτη της σκηνής που τότε διαμορφωνόταν. Ο Mark ξεκίνησε πραγματοποιώντας εμφανίσεις στο Club Night και σύντομα έγινε περιζήτητος τόσο ως dj, όσο και ως παραγωγός. Μετά τη γνωριμία του με τους Ed Handley και Andy Turner από την περίφημη Black Dog Productions, δημιουργήθηκε ένα σταθερό τρίδυμο με πολλές και σημαντικές κυκλοφορίες στο ενεργητικό του, κυρίως μέσω της General Productions Records. Μετά από δύο χρόνια ο manager της παραπάνω δισκογραφικής, Dave Hill, προσέγγισε το Broom με στόχο να συνεργαστούν. Το εγχείρημά τους πέτυχε και εγκαινιάστηκε με την ίδρυση της Pure Plastic Recordings. Χαρακτηριστικό παράδειγμα της απήχησης που είχε η δουλειά τους αποτελεί το LP Angie (1996), το οποίο καθιέρωσε τον Broom ως ηγετική μορφή της διεθνούς σκηνής. Αντίστοιχη επιτυχία σημείωσε το 2001 με το Rue East's Indoor Culture LP, το οποίο περιλάμβανε τον κλασικό πλέον techno ύμνο, Birmingham.
Τις τελευταίες δύο δεκαετίες ο Broom πραγματοποιεί εμφανίσεις σε κάποια από τα μεγαλύτερα club παγκοσμίως (Fuse, Fabric, La real, Florida 135 κ.ά.) και παράλληλα κυκλοφόρησε πολυάριθμα remixes για λογαριασμό σημαντικών καλλιτεχνών, όπως οι Steve Rachmad, Ken Ishi, The Advent, Eddie Flashin Fowlkes, Ben Sims και Mason on Great stuff. Παρόμοια, συνεργάστηκε με τις πλέον αναγνωρισμένες δισκογραφικές του χώρου, όπως οι Mo-Wax, Warp, R&S, Soma, Ifach (με τον Baby Ford), Bpitch Control, Platzhirsch, Rotary Cocktail, Material και πρόσφατα, με την 2020 vision. Από την τελευταία κυκλοφόρησε τρία επιτυχημένα EP's, με πρώτο το "Black Russian" που ήδη έχει κατακτήσει ξεχωριστή θέση στην καρδιά των clubbers. Στην πρόσφατη δραστηριότητά του εντάσσονται τόσο τα επιτυχημένα remixes που κυκλοφόρησε από την Bpitch Control, όσο και αυτά που επιμελήθηκε για τον κορυφαίο Dubfire, το επιβλητικό «Twenty Nine» (Memo) και τέλος, η συνεργασία του με δημοφιλείς καλλιτέχνες, όπως οι Dustin Zahn και Safras.
Ο Matthew Hoag έγινε περισσότερο γνωστός στην Ελλάδα μετά τη δυναμική εμφάνισή του στο 1605 stage του πρόσφατου 4G Festival. Ο ανερχόμενος dj αρχικά εργαζόταν ως τεχνικός. Έτρεφε αδυναμία στα light shows και έφερε πολλαπλές μουσικές επιρροές λόγω της δουλειάς του σε ραδιοφωνικό σταθμό. Ο Sven Vath και η μοναδική ενέργειά του επί σκηνής αποδείχτηκαν κινητήριος μοχλός, προκειμένου να αποφασίσει να ασχοληθεί επαγγελματικά με τη μουσική, ενώ επίσης η παρότρυνση του Valentino Kanzyani υπήρξε καθοριστική έτσι, ώστε να δρομολογηθεί η επίσημη σταδιοδρομία του Matthew ως dj. Οι συστηματικές περιοδείες του τα τελευταία δύο χρόνια επιβεβαιώνουν ότι αυτή του η απόφαση ήταν σωστή, με τις επιρροές του να εμπλουτίζονται διαρκώς και τον σημερινό του ήχο να φλερτάρει περισσότερο με την tech-house.
MARK BROOM (Blueprint / Material / Soma / 2020 Vision | UK)
Since the start of 90s, Former East Londoner now Norfolk based Mark Broom has always been a name that is synonymous with the UK electronic music scene. A truly prolific artist, he has a myriad of production credits to his name having worked with world renowned labels such as Mo-Wax, Warp, R&S, Soma, Ifach (with Baby Ford ) Bpitch Control, Platzhirsch,Rotary Cocktail, Material and more recently 2020 vision It all started in the summer of 89 when he landed in Tenerife on vacation and stumbled across the delights of the emerging sounds of Chicago & Acid House. Returning to the UK, he immediately went in search of this new found music a pair of turntables were bought and with it, a musical career was born. A regular customer at London's Fatcat record store, Mark found himself at the epicenter of a burgeoning scene. In 92, a certain Pete Baby Ford was on the scout for Djs to play at his new Club Night, Nude. When a mix tape was put directly in to his hands, Marks turntable skills were soon in demand. A short time afterwards, he found himself in being introduced to Ed Handley and Andy Turner from the infamous Black Dog Productions. The meeting brought about the foundations of a solid studio partnership, with the trio putting together a string of releases for the seminal General Productions Records, all recorded at UXB studios. Run by a certain Dave Hill, after two years of coming and going to his east London hideout, Dave approached Mark about making some music together. From there, a longstanding partnership was spawned with the founding of Pure Plastic Recordings in 1994. With the label having played host to some of Marks finest work, the release of the classic Angie is a shoplifter LP in 1996 cemented his reputation as a leader in the scene. In 2001, further notable success was scored with the writing of Rue East's Indoor Culture Lp alongside Dave Hill. An album which brought about the massive techno classic, Birmingham. Marks services as a Dj and re-mixer have also been in high demand over the past two decades having played around the globe at some of the worlds best clubs: from Fuse to Fabric, to La real and Florida 135 and, he has also had the pleasure of reworking material from artists such as Steve Rachmad, Ken Ishi, The Advent, Eddie Flashin Fowlkes, Ben Sims and more recently Mason on Great stuff. Mark has recently signed to 2020 vision for 3 ep's the first " Black Russian ep " already proving very popular amongst the masses. Also coming up are remixes of his Bpitch Control release " Twenty Nine which will be released on Memo, Remixes for Dubfire, Fuse Also he has collabarations with Two Emm from Berlin, Dustin Zahn and also with Safras on the Material label....Looking good for 2009

MATTHEW HOAG (DICE-MAN / SI)
Being anonymous music aficionado, music professional or a sexy Pacha girl, there are two things you really should know about Matthew Hoag: meeting him in person is always fun. Joining him for the night clubbing is a life changing experience. This vivid, cheerful, friendly bon vivant isn't just one of those guys who want to know everything about the music as an art and the whole business behind it. He's foremost a really nice person and his works are excellent reflections of his embrace-the-life globe trotting attitude.
The earliest seed that indicated Matthew's future career is hidden somewhere on the dance floor was his passion for light shows. He became light-operator for the matinees in one of the local clubs already as a teenager. Few years latter he took a job at the local radio station. That's where he learned how the radio station works, how the program is being put together, he became skillful technician, and he also listened to a lot of music: "I guess this is the main reason why I can't be put in the box as an artist. I was exposed to all range of commercial and non commercial music. And it was that period when I grew taste for good alternative music and explored even genres such as jazz and blues."
Meanwhile his career took a big leap forward as he became "illegal" light operator at the infamous Ambasada Gavioli club. This wasn't his job. Put more precisely: he wasn't even allowed to come near the console by the boss. But the resident deejays liked his touch and invited him into the booth whenever possible. "I was hanging around to listen to the sets of Valentino Kanzyani. Ambasada was the playground for the biggest names in the game. And Sven Väth was the one that really stood out of the flock: it was his human energy, power of his music, his ability to control the dance floor what ultimately convinced me to become a deejay."
Although it wasn't Sven's or Valentino's sound that he wanted to follow. "I've started with house, explored the progressive and I guess I could be considered tech-house artist nowadays," summarizes Matthew who as a very versatile and eclectic artist doesn't brand himself. He broke trough as a deejay when spotted by Valentino Kanzyani at the party in Croatia.
2008-2009 saw Matthew kicking the dance floors around the globe, from Columbia to Turkey,from Spain to Greece, from Germany To Brasil. Be prepared for another year with Matthew:)
ENTRANCE: 15 EURO (INC DRINK)
INFO: 6986068880
DIMIS: 6943176281
ALEX: 6945685121
Admin




Posts

: 434


Points

: 1237


Join date

: 2010-01-10


Age

: 36


Location

: greece





Similar topics
---
Permissions in this forum:
You
cannot
reply to topics in this forum