SHARE THIS FORUM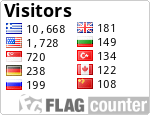 SOCIAL NETWORKS

O DARKON ΕΙΝΑΙ Ο ΚΩΣΤΑΣ ΝΑΚΟΠΟΥΛΟΣ ΑΠΟ ΤΗΝ ΚΥΜΗ ΕΥΒΟΙΑΣ.ΑΥΤΗΝ ΤΗ ΣΤΙΓΜΗ ΖΕΙ ΚΑΙ ΕΡΓΑΖΕΤΑΙ ΣΤΗΝ ΑΘΗΝΑ.
ΑΓΑΠΟΥΣΕ ΤΗΝ ΗΛΕΚΤΡΟΝΙΚΗ ΜΟΥΣΙΚΗ ΑΠΟ ΠΟΛΥ ΜΙΚΡΟΣ ΚΑΙ ΟΠΩΣ ΛΕΕΙ ΔΕΝ ΥΠΑΡΧΕΙ ΖΩΗ ΧΩΡΙΣ ΑΥΤΗ!!
ΞΕΚΙΝΗΣΕ ΤΟ 2000 ΤΗΝ ΠΑΡΑΓΩΓΗ ΗΛΕΚΤΡΟΝΙΚΗΣ ΜΟΥΣΙΚΗΣ ΜΕ ΤΟ MUSIC KAI TO PLAYSTATION ΤΕΛΕΙΩΣ ΕΡΑΣΙΤΕΧΝΙΚΑ.ΟΣΟ ΠΕΡΝΟYΣΕ Ο ΚΑΙΡΟΣ Η ΔΙΨΑ ΤΟΥ ΓΙΑ ΚΑΛΥΤΕΡΕΣ ΠΑΡΑΓΩΓΕΣ ΤΟΝ ΟΔΗΓHΣΕ ΣΤΗΝ ΠΑΡΑΓΩΓΗ ΜΟΥΣΙΚΗΣ ΜΕΣΩ ΗΛΕΚΤΡΟΝΙΚΟΥ ΥΠΟΛΟΓΙΣΤΗ KAI ΔΙΑΦΟΡΩΝ ΠΡΟΓΡΑΜΜΑΤΩΝ ΠΟΥ ΕΙΧΑΝ ΩΣ ΑΠΟΤΕΛΕΣΜΑ ΠΟΙΟΤΙΚΕΣ ΠΑΡΑΓΩΓΕΣ
ΚΥΚΛΟΦΟΡΗΣΕ ΤΟ ΠΡΩΤΟ ΠΡΟΣΩΠΙΚΟ ΤΟΥ ALBUM ΜΕ ΤΙΤΛΟ STAY WITH ME ΤΟΝ ΙΑΝΟΥΑΡΙΟ ΤΟΥ 2008 ΑΠΟ ΤΗΝ ΙΤΑΛΙΚΗ THE GUARDIAN ΜΕ PROGRΕSSIVE TRANCE KAI TRANCE ΗΧΟΥΣ…ΜΕΤΑ ΑΠΟ ΕΝΑΝ ΜΗΝΑ ΚΥΚΛΟΦΟΡΗΣΕ ΚΑΙ ΔΕΥΤΕΡΟ CD ALBUM ΜΕ ΤΙΤΛΟ LAST DESTINATION ΓΙΑ ΛΟΓΑΡΙΑΣΜΟ ΤΗΣ ΑΜΕΡΙΚΑΝΙΚΗΣ OCEAN DRIVE RECORDS ΜΕ TRANCE ΗΧΟΥΣ…
ΤΟ 2009 ΥΠΕΓΡΑΨΕ ΣΥΜΒΟΛΑΙΟ ΜΕ ΤΗΝ ΘΡΥΛΙΚΗ ΒΕΛΓΙΚΗ ΔΙΣΚΟΓΡΑΦΙΚΗ BONZAI ΚΑΘΩΣ ΚΑΙ ΜΕ ΤΗΝ ΕΛΛΗΝΙΚΗ DEEPSESSIONS RECORDINGS ΠΟΥ ΕΙΝΑΙ ΑΠΟ ΤΙΣ ΠΛΕΟΝ ΙΣΧΥΡΕΣ ΔΙΣΚΟΓΡΑΦΙΚΕΣ ΤΗΣ ΧΩΡΑΣ.
ΕΠΙΣΗΣ ΓΡΑΦΕΙ ΓΙΑ ΟΛΟΥΣ ΕΣΑΣ ΤΑ ΤΕΛΕΥΤΑΙΑ ΝΕΑ ΤΗΣ TRANCE ΣΚΗΝΗΣ ΣΤΟ ΚΑΛΥΤΕΡΟ ΜΟΥΣΙΚΟ ΠΕΡΙΟΔΙΚΟ ΤΗΣ ΧΩΡΑΣ,ΤΟ FREEZE MAGAZINE KAI EINAI KAI ΙΔΙΟΚΤΗΤΗΣ ΤΟΥ ΟΛΟΚΑΙΝΟΥΡΙΟΥ GREEK DANCE MUSIC FORUM ΠΟΥ ΑΣΧΟΛΕΙΤΑΙ ΜΕ ΤΗΝ ΠΡΟΩΘΗΣΗ ΤΗΣ ΕΛΛΗΝΙΚΗΣ DANCE ΣΚΗΝΗΣ.
Darkon is Kostas Nakopoulos and comes from Kimi, Evoia. For the time being he lives and works in Athens.
He loved electronic music since he was very young and as he says there is no life without music!!!!
He started producing electronic music as an amateurusing Music and Playstation since 2000.As the time went by his thirst for better productions led him to the production of music using computer as well as various programs which resulted in qualitative productions. His first personal album titled 'stay with me' with progressive trance and trance sounds was released in January 2008 by the Italian The Guardian…a month later a second cd album entitled 'Last Destination' with trance sounds was released by the American Ocean Drive Records…
Also he is part of Deepsessions recordings team and owner of GREEK DANCE MUSIC FORUM
Darkon is a rising ,up-and-coming producer and DJ
LISTEN
Admin




Posts

: 434


Points

: 1237


Join date

: 2010-01-10


Age

: 36


Location

: greece





Similar topics
---
Permissions in this forum:
You
cannot
reply to topics in this forum