SHARE THIS FORUM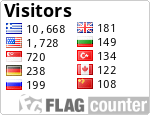 SOCIAL NETWORKS

Haris K. aka StereoK was born and raised in Athens, Greece. His love affair with music started at age fourteen when he formed his first band playing the drums. He spent eight years playing drums for the hardcore-crossover group called One Block Society in Athens. At the same time he got hooked on electronica and mostly on ambient and trip-hop, but his love to the electronic sound and EDM don't stop him to investigate other styles of music like house, techno, trance, freestyle, experimental etc.
StereoK had finished his studies on Music Technology and now is producing a big variety of electronic sounds blending trance, tech, progressive and electro house. With many releases in labels like Progrezo, Looq, Polytechnic, Pure Substance, Composure, Carica Deep, Neuroscience Deep, Existence, SoundTribe, Monad, Underground Lessons, Planetworks and with corporations with artists like Derek Howell, Arthur Deep, Nicholas Van Orton, Tronso, Evgeny Bardyuzha, Royal Sapien, Josel, Momu, Pete Lunn, Marcelo Vasami, Gerardo Boscarino, Baunder, Monojoke, M&D Substance, Masque, Jeff Devas, Bs As Deep, Topher Jones, Virus J, Johan Chatkowski and others, StereoK is promising many things in the near future.
His productions had been supported by international DJ's & producers like Hernan Catanneo, Clubbervision, Flash Brothers, Jalebee Cartel, Tarkan, Matt Rowan, Jondi & Spesh, Leama, Micah, Cassino & Laben, Alex Young, Gare Mat K, Lance Cashion, Paul Kwitek, Andrew Kelly, Matt Stapley, Stefan Anion, Ariel Cybana, Guillaume Nyckees, Deep Mariano, Hernan Cerbello, Gerardo Boscarino and from the greatest Greek Djs like Adrianos Papadeas, Alexandros Christopoulos, G-Pal, Anna Maria X, Christian Cambas, dPen, Andrew K and more.
At the moment StereoK host two radio shows, "Deep, Down & Dirty sessions" (broadcasting @ Danceradioglobal.com & Ensonic.fm) and "Back 2 Life sessions" with his close friend Rezus @ ETN.fm.
StereoK is now working as sound engineer at Best Radio 92.6 (the most famous radio station for electronic music in Greece) and had managed Carica Deep (a sub-label of russian Carica records) from 2007 till 2009 focusing on releasing deep tech & progressive house tunes. Also he had join forces with danceradioglobal.com team and manage for two year the Electronica channel as A&R manager.
For contact: stereok(at)gmail.com
MYSPACE PAGE
Admin




Posts

: 434


Points

: 1237


Join date

: 2010-01-10


Age

: 36


Location

: greece




---
Permissions in this forum:
You
cannot
reply to topics in this forum