SHARE THIS FORUM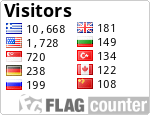 SOCIAL NETWORKS

Το τεύχος που όλοι περιμένετε έρχεται κοντά σας με μια αποκλειστική συνέντευξη JUNO REACTOR !!Αλλά και ένα μοναδικό exclusive JUNO REACTOR CD σε επιλογή του BEN WATKINS από τα αγαπημένα του JUNO tracks πειραγμένα από τον Chris lewis !!!
Για όσους αγαπούν την tech house ο UTEK έχει αναλάβει να δυναμιτίσει το danceflloοr με ένα επίσης μοναδικό CD mix!!!
Mark Archer από τους θρυλικούς Altern 8!
Αποκλειστικές interviews: Liquid Soul ,Tash από Movement Recordings Grendel , George Fakinos , Glenn Morison , Michel Cleis , Virgins or Pigeons !!!
Get to know :Just Fine , Apostolis Lamda , Horus and Seth , The Freaks Radio Show στο Noiz radio !!
Νέα στήλη [σελίδα] και ξεκίνημα με το ποίημα της Helen Drosos!
Music Technology , Hip Hop old school από τους Invisible Rockers Crew , άποψη από τον Ανδρείκελο , συναίσθημα από την Σίλια , τρέλλα από τον Suspect , νέες σελίδες από τον Funkey V !!!
Rave alarm απο DBase και φυσικα όλο το υπέροχο design ολο από τον Dbase ..!!!!
super τεύχος , super μουσικές…
ελάτε στον κόσμο μας….
ΚΑΘΩΣ ΚΑΙ DARKON-TRANCE ENERGY
ΑΠΟ 29/04/2010 ΣΕ ΟΛΑ ΤΑ ΠΕΡΙΠΤΕΡΑ..ΜΗΝ ΤΟ ΧΑΣΕΤΕ
Admin




Posts

: 434


Points

: 1237


Join date

: 2010-01-10


Age

: 36


Location

: greece





Similar topics
---
Permissions in this forum:
You
cannot
reply to topics in this forum