SHARE THIS FORUM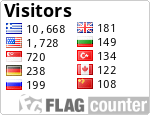 SOCIAL NETWORKS

20 years of djing
20.000 hours on the dexx
100+ gigs in one year
Nicolas Dales was born in Belgium (Liege, Verviers) October 3rd 1971. His mother is a Belgium German hairdresser, decorator, physiotherapist and his father a greek student studying in belgium informatics ( in 1969 !!!). Nicolas was always surounded by technological equipment and varius storage medias (records, tapes, floppy disks, performed cards). His mother, record collector and music fanatic, transfered him the love for the music. His father, a computer guy (since computers occupied whole appartement), transferred him the love for the technology. Nicolas bought his first record in 1978 and it was Police Outlandos d amour (Rooooxane !) and in 1979 he was the prowd owner of probably the first home computer ever arrived in greece (with him from belgium) a Zx Spectrum (not the 48K, the older one !) At the age of 6 he was already an amateur dj, performing mainly at his mother living room, as she used to have parties very often. That period he was influenced by David Bowie, Iggy Pop, the Abba, Boney M, Bee Gees, classical music...
Many years followed and Nicolas started to have psycological problems. When everybody was dancing with a girl, he was that guy in the corner, behind a table (dexx), messing with records and tapes. He even had a system with two amplifiers and two decks so he could also mix (kind of). Later he realised that exists a kind of equipment called mixer and started saving to buy one. Then at the age of fifteen he started working in a bar in Athens wich name is forgotten (braincells damage). Despite his multicultural influences (punk, thrash, rockabilly, rock, heavy metal, everything except greek!) he always had a hidden love for more electronic stuff like Depeche Mode, Frond 242, Kraftwerk, Vagelis, Jean Michel Jarre.
Everything started here....
This hidden love appeared back in 1988 while he was in Belgium and felt (thank god!) the new beat, a sound called Acid House (aciiiiiiiid). Then he started collecting records only from this musical genre. Very fast he started djing in underground and garage parties in Belgium, Holland and Germany under the name DjD or NNiko and during the summertime he was spining in the greek islands (for the following 10 years, great years...).
In Athens he started his profesional djing career in 1991 in a new bar called Action (Kenedi sq.) Few months later he had his first argument with a club owner because of the underground style of his music. He returned permanently in Greece back in 1996 studied and graduated from a sound technology institute and kept on djing in varius bars and clubs all over Greece (listed at the bottom).
Always being involved with computers he was the first greek dj performing with just a computer (full tower, not laptop !) and became resident of the famous bar Z-00 presenting his FCDS (Full Computerised Digital Set) and later on the D.A.W. (Djs At Work) nights. He was primarily mixing his own edits of the best underground tracks.
Radio, record shop, magasines, events....
Another big love of Nicolas is the radio. This happened when he was invited for a dj set in a show of a legendary radio in Athens called LIFE (1994?). Few years after he hosted some succesfull radio shows at RADIO 1, FREE FM, COOL FM, PROFIT.
During 1998-1999 he worked at Storm record shop while writing music articles at LEMON magazine. A year later he became Chief editor of a new undreground dance magazine FAST FORWARD while he cooperated and did the management of Q-BASE. In 1998 he created SoniCreationS and started organising events and bookings for varius clubs while having his own DEEP ELECTRONIQUE ATMOSPHERE and DownTown Underground nights. An accident stopped his career in 2002 and after an absence of 9 months he returned to back to the dj booth. He continued to organise varius events under the name DownTown Underground in varius clubs with big success.
Final Scratch....
In 2003, and because of his technological knowledge, his digital mixing, and his dj capabilities, he was nominated by STANTON as the OFFICIAL GREEK STANTON FINAL SCRATCH DJ presenting for the first time in Greece the Final Scratch, the latest technological equipment of the dj world.
Nicolas Dales is one of the most important dj's in his country, pioneer of digital-computer djing.
FACEBOOK FAN PAGE
Admin




Posts

: 434


Points

: 1237


Join date

: 2010-01-10


Age

: 36


Location

: greece





Similar topics
---
Permissions in this forum:
You
cannot
reply to topics in this forum