SHARE THIS FORUM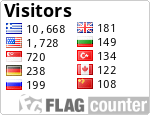 SOCIAL NETWORKS

Thodoris Triantafillou - Morningrama EP (Dj W!ld Remixes) OUT NOW!
Αfter the previous successful Lemos release, Quantized music hosts for the first time Greek veteran DJ / producer, Thodoris Triantafillou. This is the 4th vinyl release for the label.
His 'Suspicious Behavior' release on the greek label Rhythmetic earlier this year was a big success. He has also released material on Souvenir and Genowefa among others. Thodoris is also one half of the minimal techno act Novox known for releases on labels such as Ware, Safari Electronique, Resopal and Balkon, just to name a few
This E.P. contains two original tracks from Thodoris plus two remixes from French DJ / Producer Dj Wild
The 32-years-old experienced producer chooses two different paths to follow. The first path is mellow and emotional as the title track 'Morningrama' is spreading in a nine– minute – walk to heaven with his after – hour's vibe all over. This is what is believed as Thodoris masterpiece till now. A very personal and passionate moment destined to gain support from DJs of different backgrounds, both techno and house. Already signed to the upcoming Siopis aka Silversurfer mixed cd ''Hardpop'' !
The second path, 'The Revenge Of The Cyan Sneakers' is more techy with the word 'old school' written all over it. A hardcore-style vocal sample, some bells and a steady tech house rhythm section are the main ingredients of a track full of energy and good vibes
On the other side what we get is two remixes from French DJ / producer DJ Wild (Catwash, Robsoul, Adult Only etc.). Dirty, jacking, groovy house and tech house with the stamp Wild all over is sure that these tracks are going to shake dance floors all over the globe. 'Dub mello' remix follows his title exactly retaining the original's main melody and the 'Paulista edit' is more raw and funky with the repetitive loop making the track easy to remember and a bomb ready to explode!
Tracklist:
1. Thodoris Triantafillou – Morningrama (Original Mix)
2. Thodoris Triantafillou – The Revenge Of The Cyan Sneakers (Original Mix)
3. Thodoris Triantafillou – Morningrama (Dj W!ld Remix, Paulista Edit)
4. Thodoris Triantafillou – Morningrama (Dj W!ld Dub Mello Remix)
FEEDBACKS:
.. ..
Kabale und Liebe: loving both the W!LD mixes!
.. ..
Johnny D: really nice track "The Revenge Of Cyan Cneakers''
.. ..
Mr. Statik (Bpitch Control): Quantized music returns with a stupendous ep from thodoris whether we talking about the ethereal morningrama or the old school tribute that lies in the revenge of the cyan sneakers. Full support and charts allover....
.. ..
Siopis (Get Physical): THANKS MAN... very nice track;)
.. ..
Nekes (Oslo): thanks for the tracks, full suport!!....
.. ..
Lauhaus: the dj wild dub is excellent, will play!!
.. ..
Jimpster: DJ Wild mixes are heavy! will definitely get plenty of spins out of these. nice one!
.. ..
Josh Wink (Ovum): The Revenge of the Cyan Sneakers is a fun bootleg style of thing which can work at the special times for smaller parties. The other tracks are good.
....
John Selway: original is a nice easy journey, and the perfect sort of thing for my Neurotic Drum Band dj sets.
.. ..
Masomenos: like the revenge od the cyan sneaker

.. ..
Oliver Klein: Excellent W!ld Remix!!
.. ..
Sasha Kosch aka Bleed (DE:BUG): review will follow!
.. ..
Richie Hawtin: download for R Hawtin, no. 4
.. ..
Hernan Cataneo: very nice stuff, thanks!!
.. ..
Chris Fortier: original and wild remix dub
.. ..
Dubfire: download!
.. ..
Ascii Disko: Will play Morningrama when the sun is up again.
.. ..
Mirco Violi: wild remixes are for me !!
.. ..
Ramon Tapia: paulista edit
.. ..
Mihai Popoviciu (Leven Non Zero): hey, very nice pack of tracks! "morningrama" sounds excellent and i also like the wild's dub, will play these two for sure! thanks!....
.. ..
Mihalis Safras: nice one! will play that out!
.. ..
Fog (Resopal / Noir): thanks for this Q people i will have to go with the Dj wild
remixes on this one,been a fan of Wild nowdayz.Overall a
well standing ep that moves Quantized one step further..."
.. ..
Someone Else (Foundsound): the dub melo is a good dj tool.
.. ..
Ray Okpara: thx for the music. will give you 100% feedback,

.. ..
Echonomist (Time Has Changed): i really like the deepness and the harmony of "Morningrama", will play!....
.. ..
Pol_ON (Mothership): very nice, like it

))
.. ..
Gel Abril (Get Physical / Beasone): wild dub melo is my pick tnx
.. ..
Paco Osuna (Plus

: nice one
.. ..
Sweet n Candy: thank you for that release. like it
.. ..
Gurtz (Einmaleins/Lomidhigh): dj wild's dub remix and also revenge of the cyan sneakers are great funky tracks, thanks!
.. ..
Kiko Martinez: DJ W!ILD REMIX is amazing!!! good job!!! total support from docepulgadas radioshow!!!
.. ..
Dole and Kom: This guy has a great sense of sampling. love it all
.. ..
Greg Delon (Boxer): Very good track, full support!
.. ..
Wehbba: dj wild's dub remix and also revenge of the cyan sneakers are great funky tracks, thanks!
.. ..
Liz Cirelli: Thanks for the promo! The DJ W!ld Dub of Mornigrama is probably my favourite
out of this package :-)
.. ..
George P (Diaphan): very good productions from Thodoris but I like Morningrama most of all!
.. ..
Kid Massive: nice vibe to this
.. ..
The Glitz: cool dj wild remixes!
.. ..
Jorge Savoretti (Esperanza) : nice groovy tracks

.. ..
Franco Bianko (Dilek/Multiviatmins/Hypercolour): Morningrama dub melo and original are so fucking cool. Full support.
.. ..
Holgi Star (Kiddaz Fm): really nice music but bit to nice for my set :-)
.. ..
Dj Dave Shokh: revenge sounds sexy! that one definitely gots the power
.. ..
Patrick Lindsey (Terminal M): the revenge... I will play!
.. ..
Morizt Piske (Opossum/Hartchef): wild dub mix = nice tool
.. ..
Edgar De Ramon (Mindshake): I Love Paulista Edit!!!
.. ..
Milly De Mori (Sound Selective): thanks for sending this promo, i really like it, and will support it also on my radio show
both original versions are great!! and perfect for different situations
.. ..
Terje Bakke: DjWilds paulista edit is kool
.. ..
Dave Ellesmere (Intacto): revenge of the sneakers sounds interesting to me ...will try it out
.. ..
Solee (Parquet): revenge of the sneakers sounds interesting to me ...will try it out
.. ..
Eelke Kleijn: thanks i like morningrama!
.. ..
Steve Parry: dj wild dub is cool - i have forwarded to timo maas (i look after his promos)
cheers
.. ..
Ondrej (Kumquat): Thanks alot for the Promo!
I really like the release.
All 3 Versions of Morningrama are awesome! Full support!!
Cheers Ondrej
.. ..
Jairo Catelo: Nice sound here! Mornigrama (Original ) is my choice.i play for sure!!
.. ..
Panos D (Midnight Pulse): Excellent release with great mood and idea …I like the original tracks 10/10 ! Quantized music is on fire....
Dj Cleopatra (Best Radio): I played yesterday at the sho the dub melo rmx and the feedback was very good…I like it very much!!
www.quantized-music.com
Admin




Posts

: 434


Points

: 1237


Join date

: 2010-01-10


Age

: 36


Location

: greece





Similar topics
---
Permissions in this forum:
You
cannot
reply to topics in this forum