SHARE THIS FORUM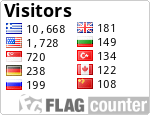 SOCIAL NETWORKS

the sound of everything
The Sound Of Everything is a record label, which aims at covering the whole spectrum of contemporary sounds, regardless of genre.
For more information on our label please go to "label". For distribution enquiries please email us at info@thesoundofeverything.com
For on-line orders please email us at or call us on +30 210 9431740 or send a fax to +30 210 9431752.
You can also join us at:
www.myspace.com/thesoundofeverythingrecordings
Our my space and facebook pages are the best way to find out about our gigs and latest news as they are updated daily!
OFFICIAL SITE
The Sound Of Everything proudly presents the second compilation of Anna Anastasiou, one of the most populars radio producers of Greece. It includes 14 tracks that fully represent and recreate the unique vibe of Anna's radio shows and dj sets. From hidden treasures like Travel In My Mind by Bobo In White Wooden Houses to the fresh sound of Hypnotized by Oliver Koletzki, this compilation is a musical journey starting with lilies and ending to rainbows!
Inspired by Bombay Sapphire
Supported by Best Radio 92,6
Tracklisting:
1) TOCADISCO: LET'S GET DOWN
2) JAP JAP: SEE ME RIGHT
3) BOAT CLUB: NOWHERE
4) DUBLEX INC. FEAT. ROSA POETTINGER: UN PEU MAIS PAS TROP
5) OLIVER KOLETZKI FEAT. FRAN: HYPNOTIZED
6) BLANK & JONES // MARK REEDER WITH VANESSA DAOU: HEART OF WAX (HEART OF CRYSTAL MIX)
7) MAGIC LIFE FEAT. RAINFARY: TRAVEL IN MY SOUL (THE MAN BEHIND C. EDIT)
8 ) THE PAINS OF BEING PURE AT HEART: HIGHER THAN THE STARS (SAINT ETIENNE VISITS LORD SPANK MIX)
9) BOBO IN WHITE WOODEN HOUSES: TRAVEL IN MY MIND
10) SALLY SHAPIRO: DYING IN AFRICA
11) LUNASCAPE: RAVEN STAR
12) I GOT YOU ON TAPE: SOMERSAULT
13) AMANASKA: SLEEP
14) ULRICH SCHNAUSS: GOODBYE
Last edited by admin on Sun Mar 07, 2010 10:44 pm; edited 1 time in total
Summer Star is a progressive house track that will ripple the dancefloors sound waves with its warm sound and beautiful melody. On remix duties two hot and respected names of the worldwide dance scene: Chris Domingo (two time GRAMMY nominee and founder of db Records, Breaks Collective Records, Loveclub, Domingo Brothers, and Chakra Blue) and Max Demand (with releases and remixes for more than 12 record labels). Releases of Kostas Skretas have been supported by names like Hernan Cattaneo, Eelke Kleijn, Shiloh, Flash Brothers, Christian Cambas, V-Sag, Adrianos Papadeas and Cid Inc.
Beatport link:
https://www.beatport.com/en-US/html/content/release/detail/216877/Summer%20Star


Similar topics
---
Permissions in this forum:
You
cannot
reply to topics in this forum